This course provides you with insights into depression and tools that you can use to ease your depression.
Testimonials:
Deirdre: "This course is first class".
Miriam: "I am working my way through your course for the second time and I am sure I will be doing it several times more before I pick up speed in making progress on a bigger personal level but baby steps and I will get there".

"The course is absolutely fantastic. I honestly believe that you are an absolute genius in the field of mental health. You have such understanding and acceptance that we who suffer with depression are normal people working our way through some very difficult issues."

Your understanding and explanation of human suffering is amazing, your explanation and knowledge and slides makes it so easy to follow. The way your slide shows work is a simple step by step guide to us reaching the potential that we all have within us to be happy and content with oneself."

Terry, your work is amazing and the understanding and commitment you give to us all that have been so lucky to work with you is greatly appreciated, you are one of a kind, an absolute genius."

Antoinette: "Such a good course. I have been telling lots of people about it."

Bernie: "Hi Terry, I've completed the sections on comfort zones, understanding and the work. It brought up a lot of feelings. Your deep understanding, and explanation of, comfort zones in depression provided so much food for thought that I sat in the garden and cried. It is a stunning read into the heart".
Angela: "It's a very helpful course. I finished Section 1 and went over the 'Having your own back' section last night. There were a few penny dropping moments so I will I go over them again. Your understanding of how the mind works is both remarkable and comforting."

Anne: "I am finished the 'Understanding Depression' course. It is a minefield of information, the most informative and understanding source of information I have read to date. I am redoing the course a few times to process all the information. Thank You".
Marie: "I am really getting tremendous support from your course and I keep referring back to different sections when I find myself in trouble!

Audrey: "Your understanding of depression goes beyond words. I feel like you have read my heart".

Michelle: "I am in the process of doing your course on understanding depression and it's really helped me massively".

Anna: "Hi Terry, I have just started to listen to the course on depression. Oh my God, I see myself in all the sections that you describe".

Mary: "I have recently started your new course, 'Understanding and Recovering from Depression', and I have found it both inspiring and encouraging."
Annie (whose partner has been diagnosed with depression): "Hi Terry, I have just finished module on shutting down and depression, I thought it was excellent with great insight into shutting down.

Michael: "I truly enjoy your course Terry. There is so much in it".

The sections I have done I have found very helpful, the topic (i.e. depression) which for me is a big dark frightening topic, is broken down into basic building blocks which helps to take away some of the fear of the unknown and make it more understandable."
Janette: "Such insight Terry, thank you so much. I've spent thousands of hours looking into depression, and you've got the best information out there".

Caroline: "I just wanted to say that your course is proving invaluable for me, as it is providing me with new tools to help myself".
Jeffrey: "This presentation is amazing and so incredibly accurate. I feel like you completely understand the experiences that a person has when dealing with 'depression'".

Gretta: "I am finding this video extremely helpful. I am stunned by the clarity of it. An absolute eye opener. Thank you so much for sharing this, Terry."
Anne: "Very thoughtful analysis that we can all benefit from"
Claire: "I feel like I am learning a lot"
Sarah: "Thanks Dr. Lynch. A timely course. I have introduced your courses to others and will continue to do so in the days to come where appropriate. Keep up the good work in teaching others."

Maria: "Dear Terry, Thank you for your informative and inspiring study on the above-named course which I have enjoyed engaging with over the past few months".

Andrew: "Dr.Terry Lynch defines step by step choices, how to move out of a depressed state. He does so with empathy and clarity, showing progressively how one's own new choices can heal and renew, well done!"

Brenda: "Really, really good".

Who this course is for:

This course is for you, if -
* You struggle with depression in your life
* You want some relief from this struggle
* You are prepared to do some work in order to achieve results.
While this course is primarily for people who struggle with depression in their lives, this course is also beneficial for mental health professionals interested in expanding their understanding of depression and of the tools they can encourage their clients with depression to work with.
About me, briefly:
I am a physician (35 years), psychotherapist (20 years), best-selling mental health author and mental health educator. For the past twenty years, I have worked full-time - with a recovery-oriented approach - with people already given psychiatric diagnoses such as depression. Mental health is my work, but it is also my hobby, my passion.
What is different about this course:
The material within this course is based upon a solid understanding of the emotional and psychological aspects of depression, aspects that do not generally receive the attention they merit.

Depression is generally seen as a medical illness. If you suffer with depression, you have likely been told that there is not much you can do to understand depression better, or to help yourself.
Within this course, I provide you with a wide range of insights into what this thing we call "depression" really is.
I also give you a wide range of tools that you can work with. These tools are not complicated. You can apply them within your daily life.
I have helped many people recover from depression. Within this course, I set out my understanding of depression, and the tools towards recovery that I have given to the people who have attended me with depression over the past twenty years.
Respect
I am very respectful of the pain, distress and struggle that is at the heart of depression. This courses reflects my respect - both for the often excruciating level of distress in depression, and for the people who experience and endure these profound levels of pain and distress.
Pacing:
Fear, self-doubt and overwhelm are regular features of depression. The pacing of the work must respect this. My general advice about the best pacing to use within this course is "small steps, taken frequently".
Contact with me:
As a participant within the course, you can contact me through the "comment" section in every module of the course, or by emailing me at [email protected]
I am of course very happy to answer any questions you many have about the course material or any related topic or issue.
Your Instructor

Terry's own life experiences and his life as a mental health activist, medical doctor, psychotherapist and mental health author have brought him to a level of understanding of mental health that is unusual if not indeed exceptional.

Terry Lynch has played a prominent role in mental health both nationally and internationally. For a nine-year period, he was appointed by the Irish Department of Health and Children to key national mental health groups - The Expert Group on Mental health Policy (2003-6) which formulated A Vision for Change, Ireland's official mental health policy document; The Independent Monitoring Group for A Vision for Change (2006-9); the Second Monitoring Group for A Vision for Change (2009-12).
Terry Lynch was the only mental health professional to be appointed to the three Groups named above. In addition, he was also appointed by the CEO of the Irish Health Service Executive (HSE) to the Irish Health Service Executive's Mental Health Expert Advisory Group (2006-8).
Terry is the author of 4 books: Prescribed Drug Dependence (Kindle, 2018); Depression Delusion Volume One: The Myth of the Brain Chemical Imbalance (2015); Selfhood: A Key to the Recovery of Emotional Wellbeing, Mental Health and the Prevention of Mental Health Problems, (2011); and best-seller Beyond Prozac: Healing Mental Distress (2004).
He has appeared regularly in the national media in Ireland and beyond.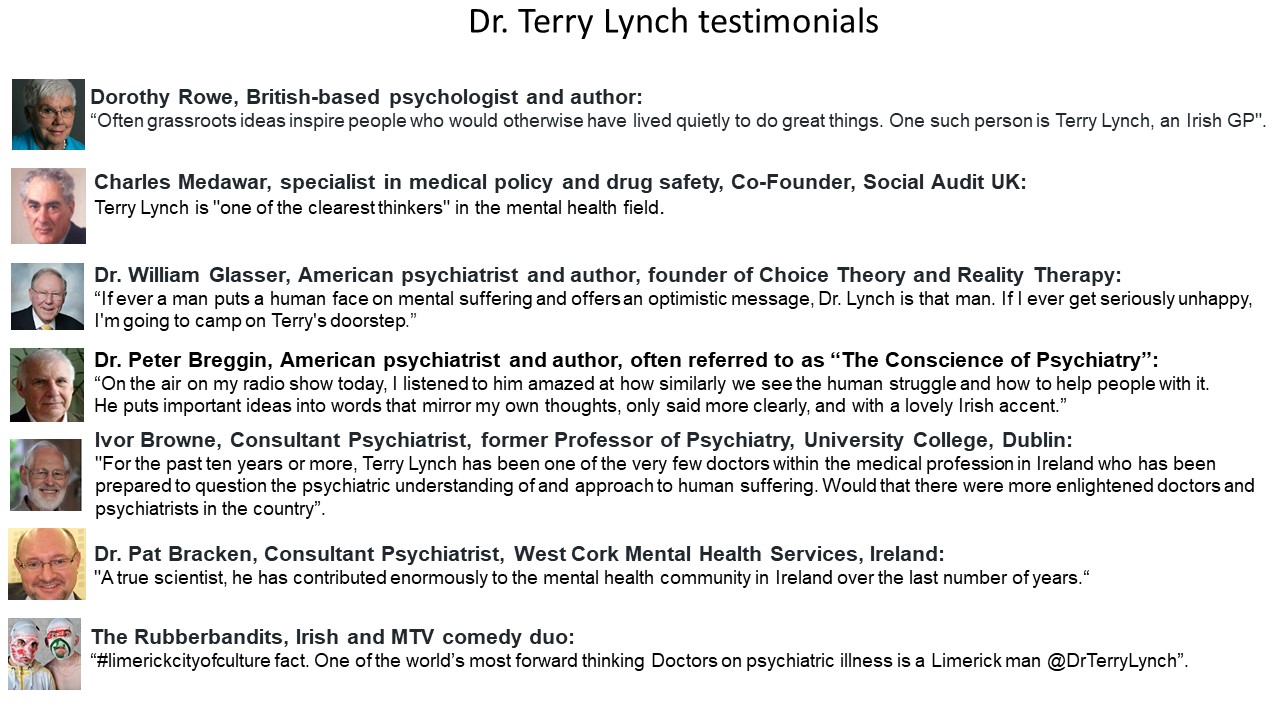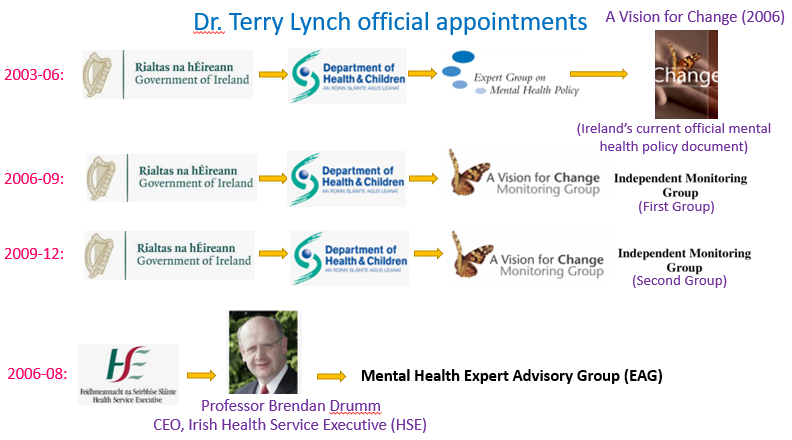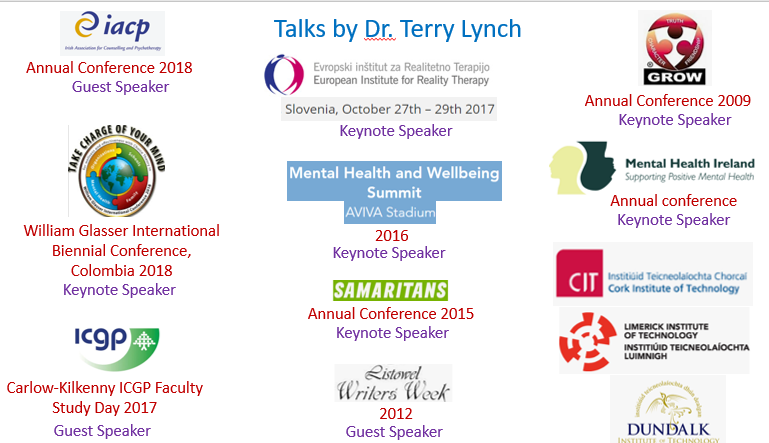 Course Curriculum
Introduction
Available in days
days after you enroll
Section One: Understanding depression (45 min 48 sec)
Available in days
days after you enroll
Recovering from depression ( 2 hr 28 min 05 sec)
Available in days
days after you enroll
Frequently Asked Questions
When does the course start and finish?
The course starts now and never ends! It is a completely self-paced online course - you decide when you start and when you finish.
How long do I have access to the course?
How does lifetime access sound? After enrolling, you have unlimited access to this course for as long as you like - across any and all devices you own.
What if I am unhappy with the course?
We would never want you to be unhappy! If you are unsatisfied with your purchase, contact us in the first 30 days and we will give you a full refund.